we say:
Supposedly, if you give a baby hundreds of toys to choose from, he'll get totally overwhelmed and not play with a single one.  We, like spoiled rotten babies, have had a similar reaction to reviewing Chicago's Italian restaurants.  Chicago is home to some of the best Italian cuisine in the country, but where do we begin when there are literally thousands of Italian restaurants, one on almost every corner?  And how can we compare a place like Spiaggia to a neighborhood osteria?  And what about pizza? Pizza!  And how many Italian restaurant reviews will you, our friends, read before you fall asleep or abandon us forever?  Life is so complicated; we'll just do our best and hope you like us anyway.  Andiamo.
Our Top Five:
Enoteca Roma (Wicker Park)

– We love this small, somewhat low-key (for Wicker Park) eatery for its incredibly flavorful bruschettas, cheeses and pastas.  We love the family-style approach and the way they pour their polenta onto marble slabs.  We love their patio too.   Really though, there's no trick to why they're first on our list; the food is superior and that's what matters.

Rose Angelis (Lincoln Park) - We doubt you'll find this one on many other Best Italian lists, but you should.  It's hard to beat Rose Angelis'  huge portions of hearty, homemade pasta.   Formerly the first floor of a home, the cozy layout and setting will charm your pants off (they'll already be unbuttoned to make room for your pasta baby).  As impossible as it may seem, try to leave room for one of their spectacular desserts.
Piccolo Sogno (River West) – A "little dream" come true.  This upscale Northern Italian restaurant's menu is as fabulous as its decor.  An impressive place to take out-of-towners, but make your reservation well in advance.  Their mozzarella cheese melts on the tongue and their wine list is impeccable.  They use authentic ingredients combined in wonderful ways, presented artfully.  If you go to their website, be prepared to rock out to some dramatic Italian crooning that starts off like a smooth jazz rendition of the theme song from St. Elmo's Fire.
Anteprima (Andersonville) - This one almost didn't make the cut because one of us finds it underwhelming, but here it is, numero quattro, and nobody has to sleep on the couch.  Everyone's a winner!  Anteprima serves rustic Italian dishes with local, seasonally-inspired ingredients.  The atmosphere is warm and cheerful and totally unpretentious.  They also make their own limoncello. Yum.
Cibo Matto (Loop) and Pelago (Gold Coast) – Between these two, it's toss up.  Both are trendy and oozing with swank.  Cibo Matto is located in the ultra-hip Wit hotel; Pelago in the boutique Raffaello Hotel.  Cibo Matto is over-the-top stylish while Pelago is more reserved and sophisticated.  Both serve Italian gourmet with a modern twist.  We suggest the Pollo a Griglia at Cibo Matto and the fettuccine with truffles at Pelago.
Our Favorites (In A League of Their Own):
Our Favorite Neapolitan-style (woodfire oven) Pizza – Antica Pizzeria (Andersonville)
Our Favorite Italian Sandwiches – Narrowly beating out the neighborhood fave, Piatto Pronto (Edgewater) is L'Apetito Imported Italian Foods (Near North Side).   Check out this Italian deli and delicacy store and get an amazing sandwich to go.  Avoid the tourist trap in the Hancock and stop by the deli in the cathedral district. We suggest Il Parma. It's topped with the best fresh mozzarella to squeeze it's way between two slices of bread.
Our favorite Italian Chicagoan – This Guy: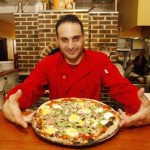 We're still in search of our favorite gelato.  Got tips?
If we missed one of your faves, use the comment section to let us know.  We'd love to try it …  or tell you why we omitted it (probably because of the weird smell and the cockroaches).  In the meantime, we'll just be sitting here, staring at our toys and throwing temper tantrums.