he said: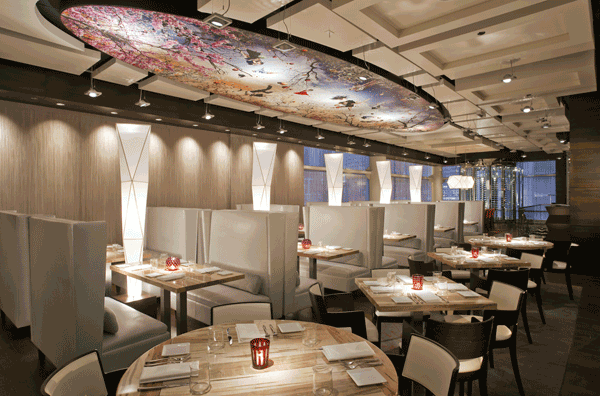 When we first walked in to Cibo Matto, my friend Joe leaned over and quipped, "This place is pretty trendy right now. Let's hope it's good." I silently agreed.  I don't know why, but I have an inherent distrust of trendy restaurants. In my mind, when I hear trendy I think, "too much presentation, not enough preparation."
Cibo Matto is located in the Wit Hotel, below their hyped rooftop bar.  The Gal and I tend to enjoy restaurants that serve up great food in an unpretentious environment, and Cibo Matto, with its dazzling décor, did not seem to fall into this category at first blush.
But I had no need to worry. From the attentive service to the lovingly prepared dishes, this was a great dinner.
Our group started with a round of appetizers. The sea scallops, served on top of a celery root puree,  were tender and fresh, a really good dish even though I don't like seafood much. The burrata, beet and arugula salad was also really good.
"How'd They Do That?" Grilled Chicken
My main dish was surprising. I ordered Pollo a Griglia, grilled chicken. I figured it would be good because grilled chicken is almost always good. Often forgettable, but good. Cibo Matto's grilled chicken wasn't forgettable in the slightest.
The main thing that stands out is how crispy and salty the skin was.  That was balanced by meat that was really tender and moist. Rarely do I find myself wondering how a certain effect was achieved, but I was wondering how the chef pulled off this feat.  I heard a rumor that it's baked with pancetta.
Don't Forget Dessert
By the time our entrée dishes were cleared, I thought I was done with surprises. But the desserts had more in store for me. It was a pretty straightforward menu, with gelatos, sorbets and a chocolate tort, but they were all delicious. The honey gelato especially was unlike anything I'd ever had before.
When we left, we weren't talking about how trendy the restaurant was at all. We were talking about how wonderful our meals were. And how we'd like to come back.
she said:
Cibo Matto means, in Italian, "crazy feast."* Did our meals live up to the name?  Were they, as promised, crazy?  I suppose not, but I will say this, Cibo Matto is doing something very different with Italian food and I'm pretty damn impressed.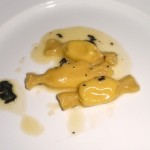 For my entrée, I ordered the Caramelli.  Caramelle, in Italian, means candy.  Caramelle pasta resembles a piece of candy wrapped in plastic.  The one pictured to the right isn't from Cibo Matto.  Mine was stuffed with burrata cheese, lined up in a row, and tossed in braised  lemon peel, diced asparagus, garlic and olive oil.  It was delightful.  I now will employ a new adjective, one that I've never used to describe pasta.  Drumroll, please…My pasta was refreshing.
I also tried the risotto, which was gorgeously buttery and saffrony.
And the desserts.  Oh Lord, the desserts.  We ordered several for the table; it was our dear friend Chrissie's birthday.  The gelatos and sorbets are homemade.  I second the honey gelato recommendation and would add the bitter chocolate gelato and mint sorbet, but only if you combine them in your mouth.  Think frozen Thin Mint.  The Tutti Frutti, a white mousse dish, was less remarkable.
If you can actually find a place to stand (sitting won't be possible), have a nightcap on the rooftop bar.  It offers an impressive view of the city.
Both Cibo Matto and the bar have garnered the kind of trendy hype that illicits foodie backlash.  I've read a ton of bad reviews and I admit, the whole experience is pretty swanky.  Even the bathroom sinks are hip.  I enjoyed our visit despite of all this because the food was exquisite and inventive.
*I love me some Italian food.  I lived in Italy, for the love of Pete.  However, there are very few Italian dishes that I would define as "crazy," whether I'm in an American-Italian pizza parlor or an itty-bitty restaurant in Sicily that serves, exclusively, horse.  Often, Italian dishes surprise and delight me.  Rarely are they crazy.  In fact, the only time I've used that adjective to describe food was at
Moto
.
Tags: ambience/interior design, burrata cheese, caramelli, chicken, Cibo Matto, cocktails, desserts, gelato, pasta, risotto, salad, scallops, sorbet