he said: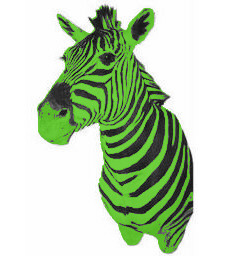 Feeling a little full of toxins after our Christmas and New Years celebrating, my beautiful girlfriend and I wanted to go out to a healthy dinner. Also, we wanted it to be just the two of us. Holiday parties are fun and waist-expanding, but a little one-on-one time was needed as well.

So we chose Green Zebra based on the fact that it was vegetarian. Should be fairly healthy, right?

Not so green when you're driving in circles

First things first, this place is really hard to find. My lovely and talented girlfriend had just gotten me an iPhone for Christmas, and we were using the map function to get us there, but that still didn't help. We drove in circles looking for an unmarked door. If she hadn't been there already and remembered what it looked like, we may never have found it.

Maybe a little valet would help, too. Not a lot of parking in the neighborhood.

So we finally find the spot, and I'm unimpressed as we walk in. The place looks like it's an old set from Miami Vice. Too be fair, it doesn't have as much neon.

Great vegetarian food

But once the food started coming out, I was happy. Being new to eating whole meals that do not include a slaughtered animal, I'm always a little concerned when I go to a place that has just vegetarian options. I need not worry, I always enjoy these restaurants.
And Green Zebra was very good. We started with a burrata cheese course that had tangerines, pumpernickel crumbs, and a salted cucumber that was the highlight of the meal. I don't know the difference between salted cucumber and pickle, but it tasted different and it was delicious.

That first course was the highlight of the whole meal for me. I had a parsnip and leek soup that was great on a cold night and wonderfully creamy. The faro risotto was a little dry and too straightforward to be memorable.

And the last course I had was warm braised artichoke and beet salad. I thought I might be getting a salad, for some reason. But it was a pasta dish. Well, I get why the call it a salad, based on the ingredients, but it looked and tasted like pasta. I really liked it, though, and would definitely recommend it.

I don't know if we accomplished our goal of eating smarter—we had a big meal. But I'm sure we ate healthier than we have been. And I know we ate very well at Green Zebra.


she said:

First, a confession. I ducked out on the parking fiasco. I was trying to look all cute for our date so I wore high heels, which is just plain stupid during the winter in Chicago. He dropped me off at the front door because he's nice.

Green Zebra is, indeed, a mostly vegetarian restaurant, but by no means is it a restaurant designed to impress only vegetarians. The food is exquisite, artfully prepared and presented. It's gourmet without pretense (and that goes for the service too). You're encouraged to order 3-4 plates; the menu is visually separated into categories so you pick one dish per category. The plates are small (because small is big these days), but satisfying, and the food is mostly organic and locally grown. There are usually 1-2 meat options (chicken or fish), which, to me, feels like an unnecessary fail-safe against warding off skeptical vegephobics.

For my first dish, I ordered a shaved papaya and salted mango salad, which was good but not amazing, in part because the description created an expectation that the dish didn't meet. The salad was mostly greens and if I hadn't been told, I'd have had no idea papayas or mangos were present. I also had the sunchoke ravioli with a poached quail egg – yum – and the celery root crepe – double yum. Two thumbs up for creative approaches to winter vegetables.

I second Guy's praise of the burrata cheese dish. The cheese was buttery and smooth with unique accompaniments. As for the decor, it's not particularly appealing to me either. They're going for super modern, but ended up with posh Floridian hotel lobby. You'll get over it (if that's necessary) with your first bite. Or your first sip. Though the cocktail selection didn't jump off the page to either of us, the wine list is top notch.