she said:
Last night we joined our good friends for their weekly jaunt to Cooper's for dinner. They love the place and are, like us, are a couple composed of one meatophile and one veggie so we knew we were in good hands.
Now, there's nothing about Cooper's that makes me want to scream from rooftops, but it's an all-around great restaurant/pub and I plan to go back often.
Its numerous virtues include the following:
1. They have a great big parking lot behind the restaurant (on Belmont!)
2. And a beautiful covered patio (which is closed for winter, of course, but looks awesome and is pet friendly).
3. On Thursdays, their delicious pizzas are half off. I had the truffle mushroom pizza; it was, without hyperbole, one of the best pub pizzas I've ever had.
4. The drink menu is extensive. The multi-page list of imported beers ends with a tiny section (labeled "We're Not Snobs") of Budweiseresque variety brews. Martini options abound.
5. There's plenty of seating and the atmosphere is hip laid-back casual.
I was less impressed by my vegetarian French Onion Soup. French Onion is normally one of my all time favorites, probably because of the thick melted cheese topping. The standard beef broth recipe is off limits for me, but – little known fact – the rich taste comes from the caramelized onions, not the broth. Thus, tasty vegetarian recipes are out there, although I don't think I've ever had one at a restaurant (if you know of any, please let me know). Anyway, Cooper's was skimpy on the cheese, but certainly not on the black pepper, which dominated the taste and, ultimately, made the soup a culinary failure, in my opinion.
Still, Cooper's had just about everything this girl could ask for in a low key/good food night out with friends. Oh, and there's a pile of smooth decorative rocks in the sink of the women's restroom. I think that's nice.
he said:
This is a great neighborhood spot. Makes me kind of wish I lived in Lake View. It has the kind of pub grub that makes you feel bad about calling it pub grub* because it doesn't get across the thought and care that goes into each dish.
*I've seen so many great pubs here in Chicago that have interesting menus and delicious dishes, I think we need to come up with a word for it. Something like bar-met (get it, bar and gourmet?) or maybe pubtacular…I'll keep working.
The service was extremely friendly, helped by the presence our friends, who are regulars. And the beer list was impressive, something that I also keep seeing in Chicago.
Fried Calamari
Coming off my experience with the grilled calamari at Antica Pizzeria, I was ready to be unimpressed when our friends recommended Cooper's fried calamari. And when it came out, it came out as sticks, instead of the rings I'm used to. It looked like fried mozzarella, and I was thinking this was some Van de Kamps style processed squid.
But one bite showed me that I was wrong. It wasn't processed–I'm not sure what part of the squid it was from, but it was one cut of meat. And they paired it with true cocktail sauce, not marinara. It was surprising, though I suppose it shouldn't be. I'm just used to seeing marinara next to calamari.
This wasn't as good as the grilled calamari, but it was a great fried calamari that rises above the typical pub grub fare.
Rockstar Burger, because I was feeling like a rockstar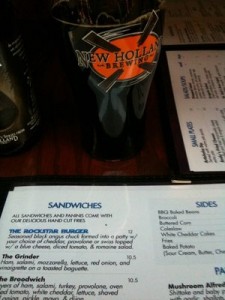 Despite the fact that it was half-off pizza night, I just couldn't turn down the Rockstar Burger. It wasn't that I fell in love with it on the menu, I just felt like a burger. And I'm really glad I did.
It came topped with a slaw, instead of the regular toppings of a lettuce leaf and a slice of tomato. The slaw was made of chopped lettuce, chopped tomatoes and blue cheese. It was tightly packed on top of the burger. I was worried it would spill everywhere, but it stayed in place really well.
And it was a nice addition to the burger. The blue cheese (or is it bleu?) didn't overpower, it was a nice addition. However, it did make the provolone cheese I ordered on the burger superfluous.
This is the kind of neighborhood spot that makes you love your neighborhood. We have a few here in Andersonville, but Coopers is a good place to have in Lake View.