he said:
I can still remember the first time I tried sushi. It was a California roll and I was in college.  That first bite was so different, so unexpected, so delicious. Back then, sushi was an exotic dish. But that was a long time ago and sushi quickly became ubiquitous.
At first I was happy that you could buy it in the grocery store. What I didn't stop to realize was that sushi just wasn't special anymore. Not when you can pick it up next to the Van De Kamps.
Uncommon Sushi
I thought I knew all that sushi had in store for me, until I ate at Tanoshii. It was one of my first dates in Chicago with the lovely woman who is now my wife. That experience went much like every subsequent trip: we ordered two Mike's Specials, told our waitress what kind of sushi we liked, and waited to see what we got.
The Mike of Mike's Special is the owner. He's also an amazing sushi chef. And when you order one of his specials, he creates for you whatever inspires him, based on the info you give him. I'll often say I like spicy tuna and never have I gotten the same thing twice. He'll do crazy things like add a chipotle mayo or a barbecue sauce, he'll dice the tuna into a fine puree, he'll add fried asparagus.
Same old unexpected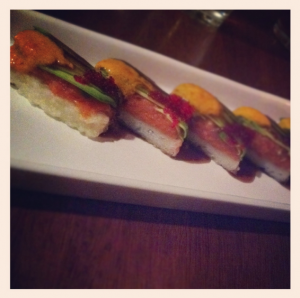 The last time we went, I indicated I liked spicy tuna, as usual. The dish that came back was unlike any sushi dish I could have ever dreamt of (not that I dream of sushi dishes). It was fashioned into rectangular pieces, with a bed of rice supporting fresh tuna, covered by shaved cucumber, caviar and a spicy, creamy sauce. Man, it was one of the best things I've ever eaten.
I'm constantly surprised, and not only because I don't know what he's going to do. It's because the flavors are so perfectly paired, the presentation so unique, the dishes so inspired. It's exactly what I believed sushi should always be, from my very first bite.
she said:
I went to Tanoshii the first week it opened – I lived around the corner at the time – and, like my husband, I experienced a sushi reawakening.  Since then, all other sushi restaurants have been left shivering in Tanoshii's shadow.  Sushi Mike is an artist, no doubt about it.  I've never seen rolls prepared more artfully or presented more beautifully… and this is to say nothing of the way they taste.  Have you ever eaten something so flavorful and robust that your jawbones hurt a little?  It's a pleasurable ache and I experience it every time I visit Sushi Mike.
Not surprisingly, I'm particularly in love with his vegetarian maki rolls.  At most places, I'm limited to two or three of the same snoozy choices.  Not so at Tanoshii.  I ask for vegetarian Mike's Specials and I've never been disappointed.  At Mike's, I've come to expect the unexpected.  My maki may show up flavored with Italian seasonings or looking more like chips and guacamole.  The rolls may be created from finely shaved pear or mango.  No matter what, they're always incredible.
If you've never been to Tanoshii, stop whatever you're doing and take off in a dead run towards Andersonville.  First, though, while you're stretching, a few pieces of advice.
Like an artist, Mike does take his time in creating his masterpieces.  Don't expect things to be snappy at Tanoshii.  You may want to order some miso soup while you wait.
While I strongly recommend you order Mike's Specials rather than from the menu (which is composed of regular boring sushi choices), I must say that they don't come cheap.  The specials range from $16-$22 and you don't know how much yours will cost until you get the bill.
If it were up to Mike, soy sauce and wasabi would be illegal. Nobody will mind if you use them on the regular menu items, but if you use them on his specials, everyone will hate you.
Don't forget to grab booze before you go.  It's BYOB and the atmosphere is jolly, even if the ambiance is standard for a sushi establishment.  Offer Sushi Mike a shot of whatever you're drinking.  I promise you he'll accept and the plates will only get more creative as the night goes on.
Okay, that should to it.  Ready, set, go.