she said: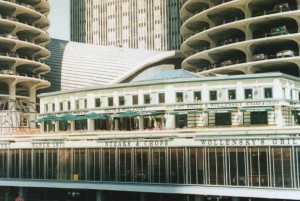 Smith and Wollensky Steakhouse.  Not my obvious choice for an evening out, seeing as I don't eat meat and I don't really dig chain restaurants, even fancy ones.  Believe it or not, this was my choice, not his.  About a year ago, my dad and brother were in town.  My brother's a quarterback and my dad, well, he just likes cooked animals.  I didn't know what to do with these strapping bucks, but when I saw that their hotel happened to be right on the river, next door to Smith and Wollensky, I figured, why not?  It turned out to be a perfect choice.  It was a gorgeous night so we sat outside.  Right on cue, the moment we were seated, an elaborate fireworks display began.  The Chicago River mirrored the brilliant lights.  My brother, looking wistful, said, "You're so lucky.  Is this what Chicago's always like?"  "Yes," I replied.  "Yes, it is."
But what can I eat at "America's steakhouse," you ask?  I'll tell you what.  Mac. And. Cheese.  I'm not hard to please when it comes to cheesy pasta, but I'd kill a man for the stuff they dish up.  It's sprinkled with white truffle oil and is, actually, the best mac and cheese I've ever had.  No kidding.
And the bread.  It comes in the container in which it's baked and it's all warm and buttery and soft and oh so good.  And the creamed spinach.  How I loved thee.
Okay, so my meal was two sides and some free bread.  So what?  I'm a cheap date.
he said:
Alright, I know her brother. No way he asked that question, looking wistful. Wistful isn't a word I'd use to describe him, no matter how many fireworks were popping overhead. I can see him saying, "This is cool."
A little less than a cathedral
Anyway, I'm lucky that my vegetarian girlfriend doesn't mind me tearing into some medium rare red meat. When she suggested this place I was surprised. Smith & Wollensky has those annoying commercials with the tag line "If steak were a religion, this would be its cathedral."
That line is memorable, and as an "ad man," I have to say it's a bit of an overpromise. First thing I think when I think of cathedral is high ceilings, not the drop ceiling that this place had. Take out the thick steak and great service, and we could have been sitting in a hotel continental breakfast.
Highly expected steak
The steak was thick, not the best I've ever had, but well prepared and tasty. Really, you can't go wrong with steak. I think I was expecting a ten, so when I got a 7, it was like a negative 3 experience.
But, to spend some time with my beautiful girlfriend is always a ten. And to share a meal in the steak's cathedral with her, well, that's just more than I expected.