he said:
We had a Groupon* for Cafe 28 that was expiring on a Wednesday, so we went there for dinner on a Tuesday. I'm sure some of you can predict what happened when we got there, but for those who don't know, the last few days before a Groupon expires are pretty crazy.  Since we're pretty crazy too, we decided to give it a try.
*Most of the time on this site, there's an ad for Groupon. We don't control who advertises here, but I'm happy to support Groupon. It's a great idea and they have awesome customer support. If you want to learn more about it, just click on one of the ads (I'm guessing there's probably one up right now).
Seating strategy
When I got there, my lovely wife had already put our names in for a table. She had a plan: "hawkeye"* a seat at the bar then order our dinner there. She kept bragging about her hawkeye-ing skills, even though "hawkeye" isn't a word.
Apparently, to hawkeye is to spy a couple leaving a table, the position yourself nearby so you're ready to sit down as soon as they get up from their chairs. Sit down too soon, and you get into some awkward lap-dance situations. Too late, and someone else hawkeyes that table. It's a skill. 
*Seriously, honey, hawkeye? Who are you, Alan Alda?
Situation: Muddled
It was super-crowded in the bar, but we were able to get some mojitos to make the wait go quicker. Delicious, delicious mojitos. I'm not in love with mojitos as much as she is, but I thought they were wonderful. I did feel bad for the bartender, who was making them by hand, muddling the mint over and over and over into hundreds of different cups. But it was so worth it–for us drinkers at least.
And waiting was kind of fun. I think that everyone there had a Groupon, so we all had an idea what we were getting into and were all in the same boat. When, after a two to three hour wait, someone finally had their name called, people would clap and cheer. The lesson here: get enough expertly-made mojitos into enough people, and even standing shoulder-to-shoulder while waiting for food is a good time.
Don't stamp my passport
When we finally sat down, we were a couple mojitos in and ready for food. I ordered the Cuban-style chicken, and loved it. So good, so tasty. Not as spicy as I thought it'd be, but I don't really know Cuban food so I didn't know what to expect.
The sides were even better than the chicken. The sweet plantains were amazing, with a light touch of cinnamon.  I couldn't get enough of the congri, which is a black beans and rice melange. You could have given just that to me in a bowl and sent me off a gassy, happy man.
When we left, I made a promise to myself that we'd make it back to Cafe 28 when it wasn't so crowded. Not just to experience the place without the long wait, but also because there was a lot on the menu I want to try. And even if it is crowded, we can always hawkeye another table. Just for the record, though, it was my hawkeye-ing skills that got us a seat this time.
she says:
This was probably my tenth visit to Cafe 28 and, let me tell ya, it was not my typical experience there.  There's always a wait on weekends and they don't take reservations.  This however, was a bit absurd.  Surely you've seen a beehive spinning around in a tornado spiralling around the lot scene at a Phish show.  It was kind of like that.  That being said, what he said is true – the mood was jovial and we were all a little buzzed.  Getting a table felt like being called down as a contestant for The Price Is Right.
I'm slightly embarrassed to admit that I go to Cafe 28 for the mojitos, which I truly believe, are the best in the city.  The secret is in the simplicity of the ingredients.  Don't get me started on all the places that use weird mint liquors and liquid sugars, that add pomegranate extract or limeade.  Rum, mint, lime, sugar, soda water, ice.  When these unadulterated ingredients are combined in the correct way, I'm a happy camper.  Out of the hundreds of restaurants in Chicago that serve mojitos, only a handful get it right, in my not-so-humble opinion.
I keep going back so clearly the food's good too.  The vegetarian options are a bit limited and I'm not a huge fan of their primary vegetarian dish, the Comal, which is similar to fajitas.  The quesadillas, served vertically, are unusually good with their garlicky mushrooms and smoky salsa.  I'm also a fan of the green tamales and the ceviche (sometimes I splurge), which seems to have mysteriously disappeared from their menu.  They serve their bread with delicious savory-sweet butter, though we didn't get any during this visit.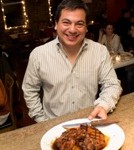 Cafe 28 is a family-run business and it feels that way, all warm and fuzzy and buzzing with life.   I can't wait to go back when the place isn't overun by Groupon users.  I'm still going to cheer loudly every time someone gets a table,  even if the place is totally dead.