she said:
Hey, remember when Pig Face was an insult rather than a gourmet entrée?  Remember when brains and bones went into the trash rather than onto the menu?  When beef tongue was a by-product rather than a delicacy?  No?  That's okay.  Me neither.
Over the last ten years, charcuterie has become so trendy that it's almost passé.   Good thing there's a new craze: offal and end bits.  Last summer, I attended a pig roast where one hipster guest insisted that we save him the eyeballs.  Which we did.  And which he ate with delight, popping one shrunken orb into his mouth and then the other.
To be clear, I have absolutely no problem with this trend.  It's all the same to me and, really, what's the difference between eating a muscle and eating an organ?  I'm simply pointing out that the same dishes (popular in most other countries, I realize) that would have once induced a gag reflex (in this country) now inspire a dainty napkin-to-lip dab and a breathy, Magnifique!
I think we can blame/laud Top Chef winner Stephanie Izard, and her highly acclaimed restaurant, Girl and the Goat, for her place at the forefront of this meat movement.  Several people advised me that I wouldn't be able to eat much at Girl and the Goat, so with that warning in my cap, along with the  letdown that usually accompanies so much buzz, I prepared myself for disappointment, even after waiting two months for our reservation.
Guess what?  I was blown away.  Yes, her menu features Bison Butt and Pork Belly, but it also features 10 truly spectacular vegetable-inspired dishes (I say veg-inspired, because they're not all vegetarian. Even some of the desserts include pork). The dishes are "small plates" so we ordered 5 to share.
The highlights:
The Chickpea Fritters, though very salty, were a textural delight, served with goat feta and a mix of green and fried chickpeas, along with hazelnut hummus and a yummy red hot sauce.
The Roasted Cauliflower, tossed with mint, lemon juice, pickled peppers, pine nuts and parmesan (I think), was a startlingly fabulous flavor combination.
And my favorite:  the Kabucha Squash Ravioli, tossed in a mushroom ragout with popped capers, raisins, and brussels leaves.   The sauce, perhaps Thai-inspired, was reminiscent of a coconut curry and it almost made me weep.
As you may have guessed, I didn't eat any animal parts so I'll have to leave the meat review to my husband.   The point is, my gastro-delight was unhindered by my vegetarianism.  You don't have to be a meat lover to fall in love with Girl and the Goat; you just have to be a food lover.  Plus, my herbivorous ways mean there's more snout for all of you!
he said:
Of all the restaurants where we've eaten in the year and a half since I've been here, G&TG (acronyms!) is probably the most hyped. We'd heard good things, but also comments like, "Oh, it's not as her good first restaurant, this is just a chance to cash in on her fame since she won Top Chef."
To all those people I say,
"Stop hating."
There is almost nothing to complain about at G&TG. I have one quibble, which I'll get to in a bit. But first, spare me a moment while I list what I loved:
The dark, large interior that reminded me of a loft. The blackened wood wall, looking like the survivor of a barn fire, that cut the dining room in two. The open view into the bustling kitchen. Our great waitress, who was so friendly I added her as a Facebook friend right there on my phone (not true, but our waitress rocked). The fact that they source their food from local farms. Loved all of it.
And oh my god, the soundtrack. The music in the background was like they tapped into my iPod. Maybe they took a peek at my playlist when I took my phone out to friend our waitress (still not true).  Classic rock, mixed with modern rock, Americana and folk. The wife and I caught ourselves mouthing the words to some of our favorites.
Comfortably creative
On to the food, specifically the meat. This is the only part I didn't love (my quibble, as promised). I really, really liked it…which is great and puts this restaurant in the Top 5% of places I've eaten. But there wasn't that eye-opening, surprising, wow-moment when I popped a bite into my mouth. The kitchen is doing something inventive with traditional comfort food tastes, and that's a big task. Inventive and traditional are awkward bedfellows, despite the fact that more and more restaurants are trying to pair them.
I love their creativity and what they're trying to accomplish. But I only really, really liked their food.
Beyond the veggie dishes, which I enjoyed a lot, I had the Goat T-bones and the Pig Face. The T-bones actually reminded me of buffalo wings. They're much smaller than a T-bone steak, and I was told to eat them with my hands. They're perfectly cooked, with a spicy barbecue sauce that gives them a little kick. Fun, tasty and just as messy as wings.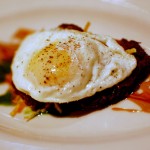 The Pig Face came recommended. Delicious and decadent with all the pork fat and a fried egg on top. It was cooked crispy, then softened by the fat and drizzled with caramel that was a sweet counter to the savoriness of the pork. It came really close to a wow moment, but was so rich that the whole plate was a bit much for one person. Get this dish if you go, but try to share it.
I was hoping to be blown away by the food, and it came up a bit short. But maybe I should appreciate the fact that this restaurant had me asking for Pig Face and I wasn't making a bad joke. I'm kind of blown away by that.