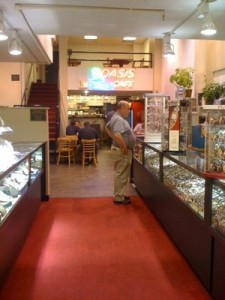 he said:
The Gal and I were doing some window shopping in the Wabash diamond district the other day… just window shopping, not looking for anything in particular. (Jeez, back off.)
Hidden
Anyway, we were in the Wabash Jewelers Mall, and we noticed a take out counter in the back of the mall. It was a tad out of place. Here we were, surrounded by stunning jewelry and diamonds, and in the back was a dirty, little greasy spoon. Or so I thought.
This place was called the Oasis Cafe, as the bright neon sign let us know. It looked…bad. I chuckled to myself at how strange it was. But there were a lot of people streaming in on their lunch breaks. We were hungry, so we decided to at least check out the menu. And that's when the surprises began.
Gem
First, it was a Mediterranean/Middle Eastern place. I was expecting greasy fast food. Second, the food was delicious.
I got one of my favorites, a falafel sandwich. I can say without a doubt that this was the best I've had in Chicago. Well, that's cheating because it's the only one I've had here, so far. But I'm not cheating when I say that this was probably the best falafel I've ever had.
I'm by no means an expert, but I've had lots of falafel in NYC. And Oasis is better. Theirs is light and moist, with wonderful crunchy skin. It was topped with tahini sauce, a little creaminess to offset the heaviness. I would have loved a few more options for toppings, but I wasn't complaining. Based on what I thought of the place coming in, I was already coming out way ahead on this dining experience.
she said:
I'm done trying to come up with plays on the "diamond in the rough" pun…. you know, because of how it's in the diamond district and because of how it's sort of like an unpolished rock, but then once you give it a chance you see that it's really more like a precious gem. Get it? Get it?
Okay, well, my point is that this place is more than a tad out of place. I mean, who decides to open a restaurant in the back of an already weird jewelry mart with no windows and no visibility from the street? Oasis Cafe! That's who! And I'm so glad they did.
I had the veggie combo, which includes hummus, baba ganoush, falafel and stuffed grape leaves or tabouli  (I chose the grape leaves). Some of the best hummus and baba ganoush I've ever had. The plate could feed two people (even two people who were very hungry because they spent their lunch breaks looking at diamond rings… pause for happy dance) and costs $6.99.
I also ordered a cup of lentil soup, which was less impressive. They'd pureed it into a baby food-like pulp and went a little loco with the black peppero.
I'll go back to try the spinach pie plate, a special I didn't see until it was too late. I tried to change my order approximately thirty seconds after saying I wanted the veggie combo, only to notice it was already waiting for me on the counter. Lickety split, their service is.
As it turns out, this diamond in the rough is a girl's best friend. Too far?