he said:
After making our reservation months in advance, when it was finally time for our Friday date night at Publican, I was less than enthused. Summer was in full swing, and all I really wanted to do was have a low key dinner with my wife. Despite my desire to see what all the fuss was about, I just wasn't in the mood for a fuss.
I didn't want a scene. I just wanted something nice and relaxing. Turns out, Publican was the perfect place to go.
We sat outside on a night with perfect weather. We were away from the hubbub inside, and the meatpacking district, surprisingly, isn't a bad place to be on a warm summer evening.
Making up for lost time
We started with a plate of pickles, and I was in love. The pickled cucumbers (most people call them pickles) were only okay. But the pickled asparagus and cauliflower were delightful. Sweet and surprising, I don't know where these have been all my life.
Speaking of missin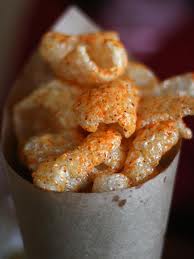 g out on something, I've never had pork rinds. It wasn't by accident, it was a conscious choice. But Publican is known for theirs so I had to try them. And I'm glad I did. They're super crunchy with an awesome spicy salt rub and a texture that kind of reminded me of Cheetos. Only better. And louder. Did I mention they were crunchy?
Country Rib Confusion
For my main dish, I had the country ribs, which were unlike any rib I'd ever had. As in, I'm not sure they gave me the right dish. Who out there has had their ribs before? I expect ribs to show up in a neat line with a bit of meat between them. This cut reminded me more of a chop. Am I crazy, or did I get the wrong dish? Please, if you can, enlighten me.
That confusion not withstanding, my "ribs" were great. They had a salty and sweet sauce that worked perfectly.
If it's a scene, it's my kind of scene
I'm so glad we went. The food was on par with what I'd expect for a neighborhood swarming with foodies, but the atmosphere was much more low key and simple than I'd anticipated.   The food and drinks (and my wife's company) were so spectacular that I would have enjoyed Publican even if it had been the scenester scene I was expecting. When I'm surrounded by such delicious treats, even the hugest of deals can't distract me.*
*Cryptic, huh? Read on and you'll understand.
she says:
If, ten years ago, someone had told me that they planned to open up a restaurant in the heart of Chicago's meat-packing district, I'd have had some serious doubts.  I mean, who would want to dine beneath the shadows of those industrial slaughter-houses, amid the smell of butchered meat? I'll tell you who.  Everyone!
He's right.  The area – with hipstastic eateries like Girl and the Goat, Publican, and Maude's Liquor Bar – has developed into a full-blown scene.  Still, it's funny to hear a relative newcomer (my husband) talk about the district as if it's passe.  It's a funny phenomena for those of us with a longer memory.
True to the roots, Publican is an homage to the meat-packing district's glory days, if such a thing exists.  I read that they bring in a whole pig each Friday – alive or dead, I do not know, but I believe they butcher on site -  and, from what I could tell, every ounce of that oinker, from snout to tail, is served up in one way or another.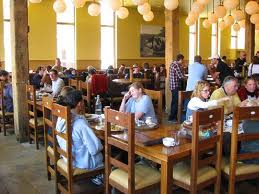 The inside of the restaurant, cavernous with hanging globe lights and large communal tables, exudes the warmth and comradery of a German brauhaus.   Along the sides of the room, gated stalls (styes?) offer a slightly more private dining experience.  To  ensure I adequately captured the scene so I could tell you all about it, I walked around the perimeters of the room several times .  After my third lap, I ran into my husband on his way back from the bathroom.  "Are you stalking?", he asked, only to be met by my blank, confused stare.  As is sometimes the case, I had no clue what he was talking about.  Until, of course,  he tilted  his head towards a nearby sty where I spotted one Robert Downey Jr. (!!!) seated with a group of friends.  One cool thing about my husband: he has a real knack for spotting celebrities, even if sometimes they're just random actors who have been in one obscure commercial.
But I digress.  Here's the thing - there's no shortage of Publican reviews out there so I'm going to keep mine short and to the point.  If you're hungry for meat, like to eat organs, and love, love, love all things pig, you're going to be in hog heaven at Publican.  If you're a vegetarian, even one who thinks they can find something yummy on almost every menu (like me), you are out of luck, my friend.  Most the vegetable courses are cooked in some sort of animal fat or with some animal part.  Interesting pickles are great, but you're probably not going to find enough to eat or anything extraordinary about the vegetarian food you do find.  Vegetarian fare is not their gig.  Consider yourself warned.
One more thing – and I'm shocked that my husband didn't bring this up -  I must applaud Publican's beer menu.  It's one of the most eclectic, extensive and all-around impressive selections I've ever seen.  It was, for me, a saving grace, along, of course, with the white fedora that Robert Downey Jr. was sporting.